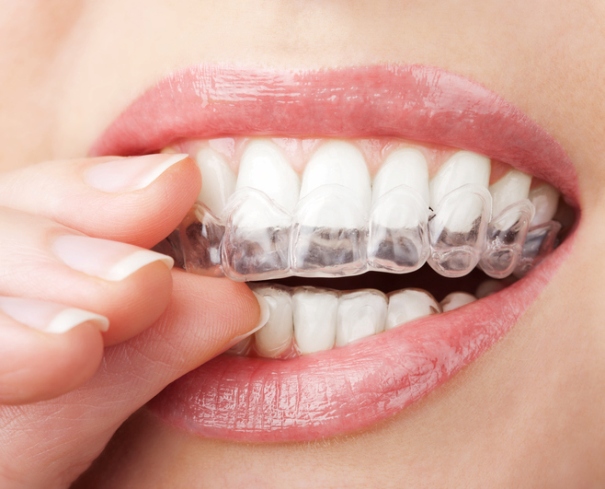 Do you envy the straight perfect smiles staring at you online, in magazines and on television?
Do you catch yourself wondering what it would take to have a perfect smile with dental braces, but you're not looking forward to a mouth full of metal?  Invisalign gives adults dental braces made of a sturdy clear plastic called aligners, rather than the metal brackets and wires commonly known with traditional braces.
Now you can have straighter teeth, correct crowding and spacing as well as overbites, underbites and crossbites without the high maintenance of metal braces.  However, as with most things there are pros and cons to Invisalign.  Here we look at a few reasons why Invisalign may or may NOT be your first choice in dental braces.
It's true that Invisalign is clear and hardly noticeable to others, but while Invisalign does not require wires or metal brackets, it is recommended that you wear the 'trays' or clear plastic aligners for 22 hours every day. The bad news here is that if you have trouble remembering to keep you aligners in once you've taken them out, then they may not be for you.  You can remove them while eating or drinking, but you should be at least comfortable wearing them while you sleep.
As difficult as it is to brush and floss between all that metal hardware and wire, you'll find you'll be brushing and flossing more often than if you weren't receiving orthodontic treatment at all.  Your teeth and gums must be clean whenever you're wearing the Invisalign aligners, because food that is trapped between the aligners and your teeth and gums can cause irritation and even plaque to buildup causing tooth decay.  And don't forget the inevitable bad breath if food debris isn't removed before you place your aligners in.
Invisalign trays are made to fit tightly around the teeth.  It's not unusual to have sore teeth as these aligners are made to gradually move teeth to close bites, fix spacing and overcrowding.  So you'll find that you'll be prying them off more than 3 times a day, especially if you snack throughout the day.  Orthodontists advise that you do not eat with them on as the aligners can crack. However, the alternative is flossing and brushing around wires and brackets, which can be difficult as well.  Also wires and brackets tend to scratch against the inside of the cheeks and against the tongue which can take time to get used to. It really comes down to which type of dental braces will suit your lifestyle.
Invisalign trays, or aligners, are made of a porous material and cleaning solutions like hydrogen peroxide or bleach will not remove stains like wine, curry, tomato sauce, etc.  So if you should forget to remove your aligners and eat with them on, some food and drink stains will be difficult to remove easily.  The good news is that throughout your treatment you'll receive Invisalign trays every two weeks that guide your teeth to their new position, so you're not stuck with stained aligners in any permanent way.
You'll have to watch what you drink because hot liquids can warp your aligners.  As mentioned before, the trays can pick up stains from coffee and tea quickly and sugary drinks leave bacteria behind that lead to plaque.  Invisalign trays can be cleaned with a little bleach and water but for no more than five minutes.  Orthodontists recommend that you do not clean them by brushing them with regular toothpaste as it will scratch and roughen the surface.  Brush the aligners with a soft toothbrush and a little soap and warm water twice each day.
Teeth whitening treatments will have to wait.  But brushing with whitening toothpaste can perk up your smile while you're waiting for the aligners, and your orthodontist, to do their magic.
The number of trays needed to close gaps, overcrowding and spacing can be as many as 40 or less than 20.  It all depends upon about what you want to achieve with cosmetic dental treatment.  Some may see this as a staggering number but depending upon what your orthodontist is trying to correct; it is not an unusual number.  With wires and brackets, you would still need appointments to an orthodontist to tweak or tighten the wires to achieve the proper tooth positioning.
Invisalign may require 'attachments' and 'buttons' for your treatment.  Depending upon treatment, attachments which are strategically applied to the surface of the teeth can help the aligners direct the force of movement as it acts as anchor points when moving teeth into an adjacent space.  Aligners are meant to fit over the attachments snugly with just a click. Removing aligners can be difficult or painful. Unlike the aligners that can be removed, attachments cannot, so some irritation to the inside of your check, lips or tongue can happen.  Since attachments are not removable, food can get caught between the attachments and the aligner, so you may find yourself carrying floss and a toothbrush with you.
The buttons used with Invisalign aligners can be made of a clear plastic or metal that performs as anchors for rubber bands. These buttons are used when aligners alone cannot move the teeth in the direction needed, specifically in complex cosmetic dentistry cases.  Buttons are placed near the gum line; however, the elastic running between the buttons will be noticeable.  And just like the aligners, buttons and attachments can stain just as easily.  Since buttons and attachments are not removable, you'll want to brush after coffee, tea or wine to keep them as clear and invisible as possible.
Watch the lipstick.  Lipsticks can stain aligners and attachments just as easily as food or drinks.
Weight loss might be a result.  Removing aligners every time you want a snack or drink can be cumbersome, so you may find it easier to eat three well-rounded meals, rather than continuously snacking throughout the day.
Selecting between Invisalign or traditional braces means choosing a dental braces treatment that will work with your lifestyle.  Certainly, knowing what to expect can make all the difference, and help you get through treatment with grace and poise for a winning smile.
 Written by Sylvia Burleigh
Sources:
http://news.health.com/2015/02/13/11-things-i-wish-id-known-before-i-got-invisalign/
WMDS, Inc. (2016) Just how noticeable is Invisalign?  Retrieved October 25, 2016
https://www.animated-teeth.com/dental-braces/a-invisalign-invisible-braces.htm#atta
https://www.realself.com/question/invisalign-vs-braces-whats-difference